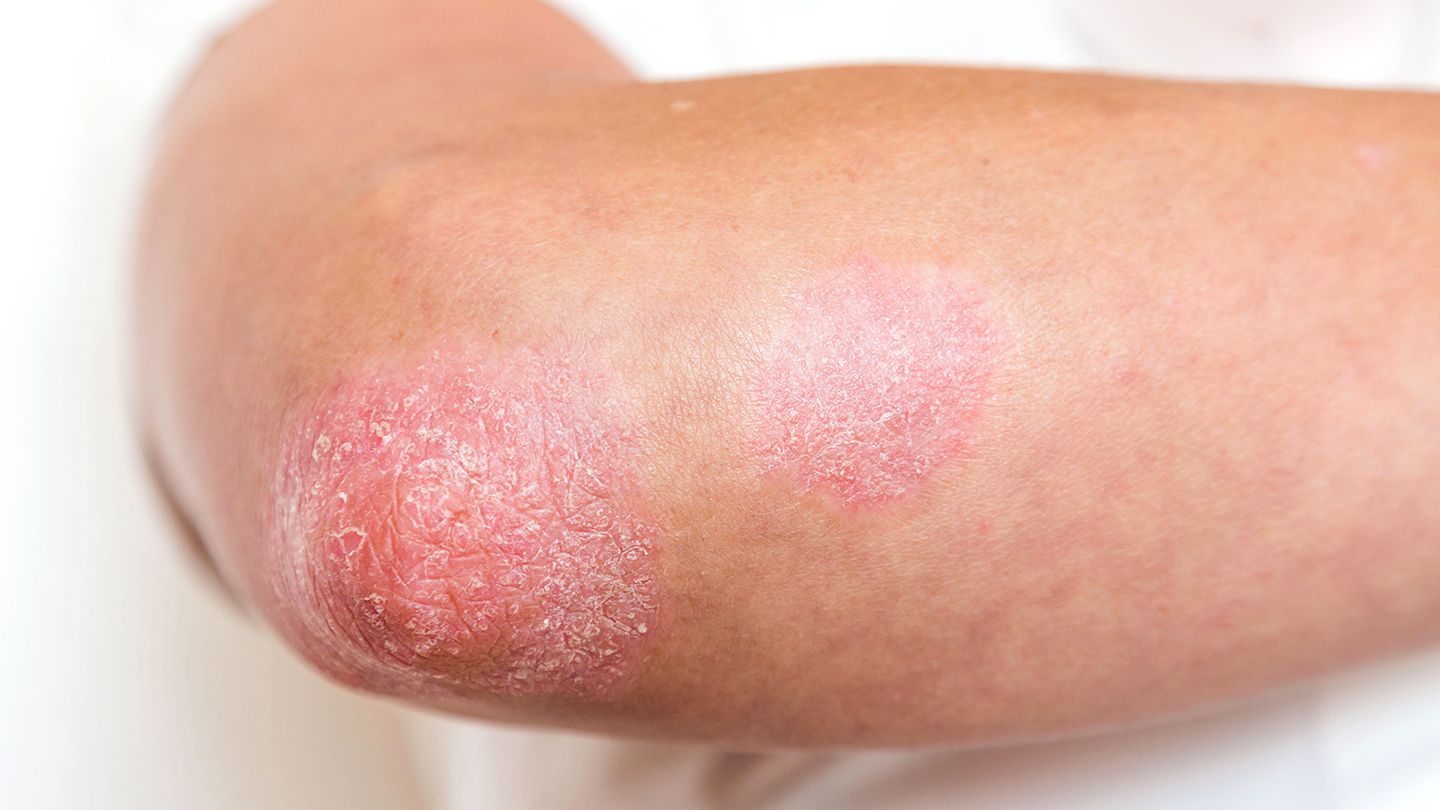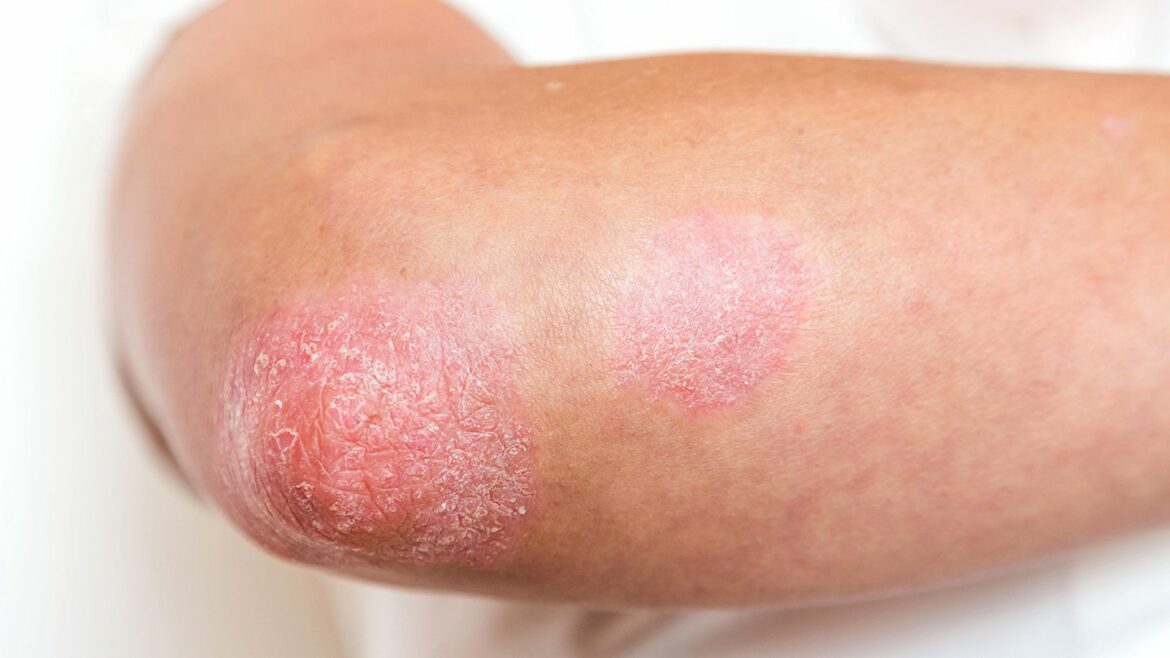 DESCRIPTION
Psoriasis or psoriasis is a chronic, chronic skin condition that produces itchy skin with thickening, scaling skin. The excessive rapid proliferation of skin cells results in dry patches on the skin. White blood cells produced inflammatory chemicals called lymphocytes trigger the proliferation of skin cells. Psoriasis usually affects elbows, knees, and scalp skin. The spectrum of the disease ranges from mild to limited to small areas of skin, with large, thick plaques forming red inflamed skin over the entire body surface. Psoriasis considered as an incurable, chronic inflammatory skin condition. In this disease, this scaly skin keeps on improving and deteriorating from time to time. Years of study show that psoriasis or psoriasis is not a common disease. In many people, symptoms tend to worsen on their own during the cold winter months.

Psoriasis or psoriasis can happen to people of any race and any gender, although it can happen to people of any age, from children to old people. First of all, patients are diagnosed with its symptoms in their early years. Very often in psoriasis patients, due to this type of skin disease, the desire to live a little less. Recently, it has become clear that diabetes, high blood lipids, heart disease, and many other inflammatory diseases are more common in people with psoriasis. This may reflect an inability to control inflammation. Caring for psoriasis is medical teamwork.
CAUSES AND RISK FACTORS OF PSORIASIS?
The exact cause remains unknown. A combination of elements is involved, including genetic predisposition and environmental factors. It is common for psoriasis to occur in members of the same family as defects in immune regulation (white blood cells called T cells mistakenly target healthy cells instead of attacking foreign cells) and control of inflammation. Is thought to perform. Despite research over the past 30 years, the "master switch" that turns psoriasis on is still a mystery.

WHAT ARE THE DIFFERENT TYPES OF PSORIASIS?
There are several different forms of psoriasis, including eyelid psoriasis (psoriasis) vulgaris (common plaque type), guttate psoriasis (small, drop-like spots), and inverse psoriasis (in folds like the underarms, navel, groin, and buttocks). There are different forms. And pustule psoriasis (small pus-filled yellow blisters). When the palms and soles are involved, it is known as palmoplantar psoriasis. In erythrodermic psoriasis, the entire skin surface is associated with the disease. Patients with this form of psoriasis often feel cold and may develop heart failure if they have a pre-existing heart problem. Can be confused with fungus. Scalp psoriasis can be severe enough to cause localized hair loss, lots of dandruff, and severe itching.

HOW IS PSORIASIS DIAGNOSED?
There are no special blood tests or tools to diagnose psoriasis. A dermatologist (physician who specializes in skin diseases) or other health care provider usually examines the affected skin and determines whether it is psoriasis. Your doctor may take a piece of the affected skin (a biopsy) and examine it under a microscope. When biopsied, the skin with psoriasis looks thicker and inflamed compared to the skin with eczema. Your doctor will also want to know about your family history as about a third of a family's people suffer from the disease.

FACTS OF PSORIASIS
Psoriasis meaning in Hindi is a chronic and inflammatory skin disease.

Plaque psoriasis is the most common form of psoriasis.

Obesity, diabetes, and heart disease are most common in psoriasis patients.

Psoriasis can also be triggered by certain environmental triggers.

Psoriasis meaning in Hindi is a disease related to inherited genes.

Although the symptoms of the disease vary, they include red, scaling itchy, raised skin that affects the elbows, knees, and scalp.

Psoriasis Meaning in Hindi is not a contagious disease.

Psoriasis can be controlled with the help of medicines.

Psoriasis or Psoriasis is not a curable disease.

It may be possible to treat psoriasis with the help of some new drugs and therapies.



WHAT ARE THE DIFFERENT TYPES OF PSORIASIS?
Plaque skin disease

– This is the most common type, occurring in about 90% of cases. Symptoms include dry, red skin lesions known as plaques, which are covered with a white crust. They usually appear on your elbows, knees, scalp and lower back but can appear anywhere on your body. Plaques can cause itching, swelling, or both. In severe cases, the skin around your joints may crack and bleed.

Scalp skin disease

-This can happen on parts of your scalp or on the entire scalp. This leads to the formation of red spots on the skin which are covered with bright-white scales. Some people find it extremely itchy with scalp dermatitis, while others do not feel any discomfort. Exacerbations can cause hair loss, although this is usually only temporary.

Nail skin disease

– The condition affects the nails in about half of people with dermatitis. Dermatitis can cause your nails to develop into small dents or pits, discolor, or grow abnormally. Often the nails can become loose and separate from the roots. In severe cases, your nails may crumble.

Guttate skin disease

– Guttate dermatitis causes small (less than 1 cm or 1/3 inch) sized sores on your chest, arms, legs and scalp. Guttate dermatitis may disappear completely after a few weeks, but some people develop plaque dermatitis later on. This type of skin disease sometimes occurs after a streptococcal throat infection and is more common in children and adolescents.

Inverse skin disease

– It affects folds or creases in your skin, such as the armpits, groin, between the buttocks and under the breasts. Large, smooth red spots may form in some or all of these areas. Inverse dermatitis can be made worse by friction and sweating, so can be especially troublesome in hot weather.

Pimple skin disease

– Pimple dermatitis is a rare type of skin disease that causes pus-filled blisters (pimples) to appear on your skin. Different types of pimple skin diseases affect different parts of the body.

Generalized Pimple Dermatitis

– It causes pimples over a wide area of ​​skin, which develop very quickly. Pus is made up of white blood cells and is not a sign of infection. Pimples may reappear every few days in the cycle or every few weeks. During the beginning of these cycles, von Zumbusch dermatitis can cause fever, chills, weight loss, and fatigue.

Palmoplantar Pimple Skin Disease

– It appears on the palms of your hands and the soles of your feet. The pimple gradually develops into circular brown scaly spots, and peels off. Pimples can come every few days or weeks.

Acropustulosis

– This causes pimples to appear on your fingers and toes. The pimple then bursts, making the affected areas red, leading to swelling or scabs. This can cause pain and deformities in the nail.

erythrodermic skin disease

– Erythrodermic dermatitis is a rare form of skin disease that affects almost the entire skin of the body. It can cause intense itching or burning. Erythrodermic dermatitis can cause a lack of protein and fluid in your body. This can lead to problems like infection, dehydration, heart attack, hypothermia and malnutrition.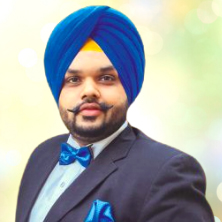 Dr. Vaidya Karanvir Singh is the younger Vaidya in Chandigarh Ayurved & Panchakarma Centre. He is the fourth generation in his family who is practicing as a general consultant in Ayurved & Panchakarma treatment at Chandigarh. In his practice, he had treated more than 1 Lakh Plus patients worldwide.
Article by Dr. Karanvir Singh (M.D in AYURVEDA, PANCHAKARMA FAGE) and reviewed by Vaidya Jagjit Singh (B.A.M.S)