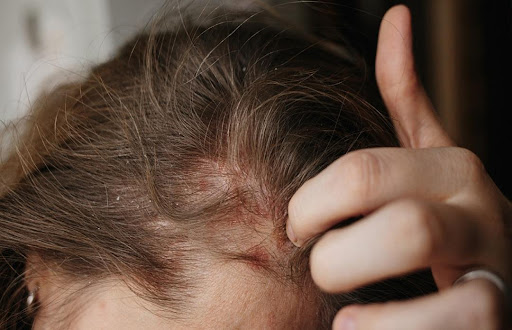 Psoriasis is an autoimmune skin condition within which inflammatory changes occur 

Symptoms may vary from person to person. Usually symptoms may include raised and scaly skin patches, or plaques, which will vary in color betting on a person's skin tone

Psoriasis could be a chronic skin condition that will worsen now and then improve. It's an autoimmune condition caused by an overactive system 

Psoriasis may affect the full body or specific body parts just like the legs and trunk, or areas where skin touches skin, like under the breasts or within the groin or armpits 

Psoriasis may also affect the hands, feet, fingernails and joints

Scalp psoriasis causes rapid buildup of the skin cells, which ends up in scaly, thick itchy patches on the scalp and other areas of the body

In persons with lighter skin tones, pink or red colored patches appear with silvery white scales.

Dark brown or purple patches appear on people with dark colored skin.
There are differing types of psoriasis. Psoriatic changes are mostly noticed on
What is scalp psoriasis?
When psoriasis affected the scalp region, it's called scalp psoriasis. Scalp psoriasis is often seen among individuals with chronic plaque psoriasis.
CAUSATIVE FACTORS:
Exact reason of scalp psoriasis isn't known yet but specific genetic features might increase a risk of developing the condition.

Hereditary factors also play role in causing so this condition runs in families.
RISK FACTORS:
Use of or withdrawal from certain internal medications 

Topical use of some creams

Overexposure to UV light

Some infections

Stress
SYMPTOMS:
Symptoms may vary from person to person and will be mild to severe and should include:
Dryness of skin

Flaking or scaling of skin that resembles dandruff

Itching, burning, or discomfort

Raised reddish patches

Silver-like scales

Temporary hair loss or bleeding points could also be noticed after scratching or removing the plaques on the scalp
These symptoms are noticed on each side of the scalp, or they'll affect most of the top. they'll reach the:
Neck

Ears

Forehead

Other parts of the face
DIAGNOSIS & TREATMENT OF SCALP PSORIASIS:
Diagnosis is made by taking the entire history and by Physical examination. Certain investigations will help to substantiate the diagnosis like blood investigations, skin biopsy.

For treatment of scalp psoriasis topical corticosteroids or medicines are utilized in combinations.
Topical treatments
Topical medications for scalp psoriasis include:
Corticosteroids (either topical or locally injected)

Vitamin D derivatives like calcipotriene

Retinoids

Anthralin

Salicylates
Due to present of hair on the scalp topical medications for psoriasis are difficult to use. So, doctors usually recommend lotions, liquids, gels, foams, or sprays rather than thicker creams or ointments used on other parts of the body.
PREVENTION:
Avoid scratching or picking of skin: Scalp psoriasis is different condition than common dandruff. There could also be large and silvery scales. The scales must be removed carefully. Avoid scratch or pick them

Combing and brushing: Extra care should be taken while combing or brushing your hair, it can irritate your scalp you'll be able to use a comb to softly remove scales

Proper cleaning should be done before each use to stop infection, and see your doctor about any quite adverse effects
COMPLICATIONS OF SCALP PSORIASIS:
Bleeding: Scalp psoriasis can cause itching and discomfort. Scratching or removing scales ends up in bleeding.

Hair loss: Scalp psoriasis affects hair follicles, heavy scaling and excessive scratching ends up in noticeable hair loss. Use of the many reasonably scalp psoriasis treatments and stress can cause hair loss
AYURVEDIC TREATMENT OF SCALP PSORIASIS:
DETOX PREMIUM POWDER:

The powder is very beneficial to cure any kind of body pain as it removes excess toxins from the body and balances the aggravated pitta and vata dosha. The ingredients help in reducing swelling, redness, shrinkage of tear lining in the anus, burning sensation, etc
DOSAGE: Take 1 sachet twice daily with normal water
BLOOD PURIFIER SYRUP:

It is ayurvedic syrup that consists of various natural ingredients as the syrup purifies the blood by removing excess toxins it is very beneficial in maintaining proper circulation and improves the skin naturally.
TWAK TAILAM:

Twak tailam is very effective for the skin as it deeply nourishes the tissues and improves the skin luster. The tailam supports skin health, helps in reducing uneven pigments, improves complexion, and helps in deep detoxification and blood purification without any side effects
Method of Application: Apply over the affected area of the skin.
SKIN CARE TABLET:

It helps to maintain the texture of your skin depending on the type of skin you have. Skin care is a blood purifying tablet. It cools and detoxifies the blood, increase blood circulation of the skin
DOSAGE: Take 1-2 tablets twice daily
PANCHATIKTA GHRITA GUGGULU:

This tablet promotes detoxification and rejuvenation. Panchatikta Ghrita Guggulu tablet is a natural source of anti – oxidant
DOSAGE: 1 tablet twice a day
NEEM SOAP:

Neem (Azadirachta indica) is such a wonderful herb that is easily available and shows Anti-bacterial, Anti-inflammatory, Antioxidant, Anti-microbial, Antifungal, Antiseptic properties.
TRIKATU TABLET:

Trikatu Tablet helps to eliminate excess Kapha or mucous from the body, supports respiratory system, manages weight, helps to take out impurities or ama from the body, supports healthy detoxification, reduces swelling. It shows anti-inflammatory, analgesic, expectorant, antioxidant properties
DOSAGE: Take 1 tablet twice daily or as directed by the physician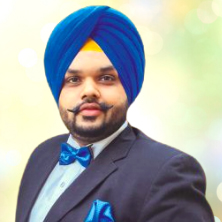 Dr. Vaidya Karanvir Singh is the younger Vaidya in Chandigarh Ayurved & Panchakarma Centre. He is the fourth generation in his family who is practicing as a general consultant in Ayurved & Panchakarma treatment at Chandigarh. In his practice, he had treated more than 1 Lakh Plus patients worldwide.
Article by Dr. Karanvir Singh (M.D in AYURVEDA, PANCHAKARMA FAGE) and reviewed by Vaidya Jagjit Singh (B.A.M.S)