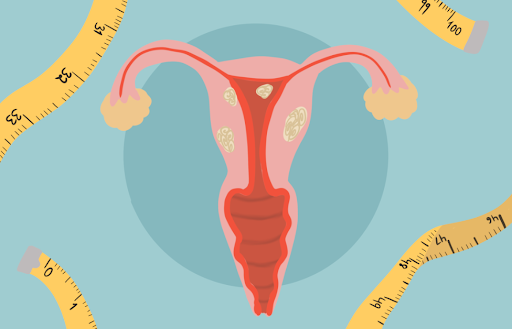 OVERVIEW
Uterine fibroids are also called leiomyomas. They are growths in the connective tissue and muscle of the uterus. These are non-cancerous growths that occur during reproductive years of the females. They do not develop into cancer.
Uterine fibroids size ranges from a seedling to an oversized bulky mass. Sometimes they are undetectable when they are small in size and at other times, they distort the shape of the uterus. They grow as a single nodule or in a group. Fibroid clusters range in size from 1 mm to more than 20 cm in size. They can get as large as the size of a watermelon. The fibroids can grow in the cavity of uterus, inside the wall of uterus and outside the wall of uterus.
They are generally non-symptomatic, that's why not get detected in early stages. But heavy menstrual bleeding, frequent urination and pain during sexual intercourse are some of the symptoms.
Small fibroids do not require treatment but fibroids larger in size can be treated either due to medications or with surgery.  
TYPES OF UTERINE FIBROIDS
Fibroids are of different types depending on their location:
Submucosal fibroids

– The fibroids grow inside the uterine cavity where the baby grows.

Intramural fibroids

– In this, the fibroids are embedded inside the wall of uterus.

Subserosal fibroids

– Fibroids are present on the outer side of uterus.

Pedunculated fibroids

– These are the least common type of uterine fibroids. They are attached to the uterus with a thin stalk and are present on the outer wall of uterus. Their appearance is mushroom-like.
CAUSES OF FIBROIDS
The cause of occurrence of fibroids is not known but the following factors can play a role:
Presence of estrogen and progesterone hormones – they stimulate the growth of uterine lining

Genetic changes

Release of certain growth factors like insulin growth factor  

Increase of extra-cellular matrix
RISK FACTORS FOR UTERINE FIBROIDS
There are various risk factors which increase the risk of fibroid development in uterus:
Increased body weight

Deficiency of vitamin D

Getting periods at an earlier stage

Having a genetic predisposition

Use of birth control measures

Drinking alcohol

Not having children

Late menopause
SYMPTOMS OF UTERINE FIBROIDS
In most of the women, there occur no symptoms of uterine fibroids. However, when symptoms occur, here are the following:
Painful and heavy menstrual bleeding during menstruation

Bleeding between periods

Frequent urination

Menstrual periods lasting for more than 7 days

Constipation

Bloating

Pain during sexual intercourse

Pain in lower back

Excessive vaginal discharge
COMPLICATIONS OF UTERINE FIBROIDS
The uterine fibroids are generally not dangerous but sometimes they cause a few of the complications. These are:
Anemia – due to heavy blood loss

Difficulty in getting pregnant

Feeling tired all the time
DIAGNOSIS OF UTERINE FIBROIDS
The doctor will ask about the symptoms of the disease. He will also do the pelvic examination of the patient. He will make the patient do some of the following tests:
Ultrasound

Complete blood count 

CT scan

MRI

Hysteroscopy

Hysterosalpingography

Hysterosonography 
CHANDIGARH AYURVED CENTER'S MEDICATIONS FOR THE TREATMENT OF UTERINE FIBROIDS
Here are some of the medications of Chandigarh Ayurved Center which are used for the treatment of uterine fibroids:
Femine care tablet is an Ayurvedic formulation that work on female reproductive system and make it healthy. Ghritkumari (Aloe Vera), Muramakki (Commiphora myrah), Sonth (Zingiber Officinale), Hara Kasis. These tablets shows antioxidant, anti-inflammatory and immune-modulator properties. These tablets helps to treat polycystic ovarian syndrome, endometriosis, amenorrhea, dysmenorrhea, uterine fibroids etc.
Recommended Dosage: Take 1 tablet twice daily
These are classical herbal tablets that are in use for cyst type of problems. The tablets relieve all the signs and symptoms related to uterine fibroids patients. Kachnaar Guggul tablets are prepared from Kachnaar (Bauhinia variegate), Shunthi (Zingiber officinale), Maricha (Piper nigrum), Pippali (Piper longum), Haritaki (Terminalia chebula), Bibhitaki (Terminalia bellirica), Amalaki (Emblica officinalis), etc that shows anti-inflammatory, analgesic, antioxidant, etc properties.
Recommended Dosage: Take 1 tablets twice daily with normal water
CAC TRIKATU TABLET is a herbo-mineral tablet of 650 MG and is purely Ayurvedic formulation. CAC Trikatu Tablet helps to eliminate excess Kapha or mucous from the body, supports respiratory system, manages weight, helps to take out impurities or ama from the body, supports healthy detoxification, reduces swelling. It shows anti-inflammatory, analgesic, expectorant, antioxidant properties. This tablet is made up of equal parts of three herbs such as Pippali (Piper longum), Shunthi (Zingiber officinale), & Marich (Piper nigrum) that maintains the metabolism in the body. The regular use of this tablet balances the thyroxine hormone and treats hyperthyroidism naturally.
Recommended Dosage: Take 1 tablet twice daily with normal water
Woman Champion is a pure herbal and ayurvedic formulation that is an effective tonic for women and helps to maintain their health. It balances all the doshas of the body and it also maintains the hormonal levels. It has Lodhra, Manjishta, Ashok chaal Punarnava, Shatavar, Bala, Daruharidra, Nagarmotha present in it that help the women in symptoms like mood changes, stress, headache and pain.
Recommended Dosage: Take 1 teaspoonful twice daily
CAC woman power tablet is a complete health supplement for women which is best for female health and vital energy. It helps to build up the immunity. This is a pure herbo mineral product of the best quality herbs. The herbs used are Ashoka, Shatavari, anatmool, etc. These are herbs used since ancient times to maintain female health metabolism. It works well in the reproductive system and other health-related disorders. The extract of these herbs is used which provides multiple health benefits. These herbs have the potential to improve female health and libido.
Recommended Dosage: Take 1 tablets twice daily with normal water
CAC Cyst heal tablet is a pure ayurvedic medicine that contains various herbs extract that works on the any kind of abnormal growth like cyst, myoma, polyp, lipoma, lumps in breast, benign or malignant tumor. Cyst heal tablet helps in reducing any kind of abnormal growth in the body and reducing overall body weight. It treats menstrual irregularity, increases ovulation and follicular maturity, PCOS and treats female infertility as well.
Recommended Dosage: Take 1 tablet twice daily with normal water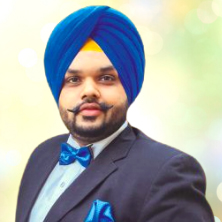 Dr. Vaidya Karanvir Singh is the younger Vaidya in Chandigarh Ayurved & Panchakarma Centre. He is the fourth generation in his family who is practicing as a general consultant in Ayurved & Panchakarma treatment at Chandigarh. In his practice, he had treated more than 1 Lakh Plus patients worldwide.
Article by Dr. Karanvir Singh (M.D in AYURVEDA, PANCHAKARMA FAGE) and reviewed by Vaidya Jagjit Singh (B.A.M.S)