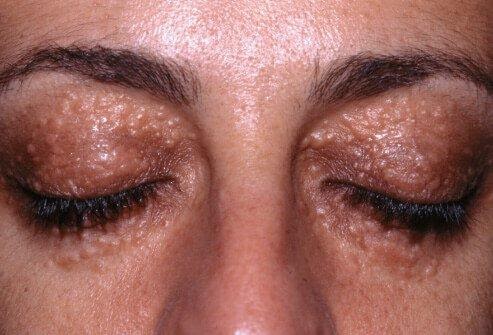 Syringomas are harmless sweat gland tumors. A syringoma is a benign, or non-cancerous, growth that is caused by overactive sweat glands.

Syringomas usually grow on the neck, upper cheeks, and the lower region of the eyes, but sometimes also noticed on the abdomen, armpit, scalp, bellybutton, and genitals.

In most of the cases, syringomas are usually harmless and do not cause any symptoms.  In some individuals having syringoma symptoms like extreme pain and itchiness are noticed, especially when sweating.
Some facts on syringomas:
Syringomas more commonly found in between the ages of 20 and 30.

Syringomas can be due to several different medical conditions, including diabetes.

In some rare cases genetic history is also seen among individuals.
Clinical presentation of syringomas
Syringoma is usually looks like small bumps on the skin. Syringomas are one kind of small papules or firm bumps,that are about 1 to 3 millimeters wide. The papules usually grow in small groups and of different colors like yellow, brown, pale pink, skin-toned.

Syringoma are usually symmetrical, meaning the same pattern appears on both sides of the body in the same place.

Syringomas can be mistaken with other skin conditions. Symptoms of syringomas may be similar conditions like 
Milia

Lichen planus

Xanthoma

Sebaceous hyperplasia

Acne vulgaris

Flat warts

Basal cell skin cancer
Syringomas take time to develop, but in some people like in younger individuals, eruptive syringomas may develop. Eruptive syringomas cause severe itching as well as redness and pain.
Some medical conditions that are associated with syringoma development include:
Diabetes mellitus

Down syndrome

Ehlers-Danlos syndrome

Marfan syndrome
Treatment options
Syringomas can lead to emotional distress, especially when extensive or disfiguring. Some syringomas grow very close to delicate tissues, like those of the eyes or genitals. 

People want to get this treated for cosmetic reasons. There are several surgery options to treat syringomas though no one guarantee permanent treatment but can help to reduce the symptoms. And all surgeries carry inherent risks, like infection and scarring.

Medications are the first line of treatment for benign skin growths, having low risk of complications like scarring, tissue damage, and infection.
Medications that are used to treat syringomas are:
Topical or oral retinoids

Topical atropine
Ointments that are used locally, contain low concentrations of chemicals that gently remove the top layers of the skin will help to reduce the appearance of syringomas.

Chemicals that are commonly used as an effective exfoliator include:
Glycolic acid

Pyruvic acid

Mandelic acid

Lactic acid

Salicylic acid
Use of some home remedies like white sugar mixed with olive or coconut oil will also be helpful .

Avoid products with microbeads.

Avoid any kind of products that cause skin irritation and then responsible for skin drying and damaging.

It takes months to years of continual use for these products to work. Use of chemicals or sharp exfoliaters  can cause dryness, tissue damage, and even scarring.
Surgical options include:
Laser surgery
Laser therapy is preferred treatment option for syringomas. In laser treatment, visible and invisible red light waves are concentrated at the syringoma, its tissues are destroyed.
Electrosurgery
In electrosurgery, electrical currents are concentrated and abnormal growths are destroyed to treat   syringoma. It takes only single session of electrosurgery to destroy syringoma. 
Cyrotherapy
In cryotherapy, chemicals like liquid nitrogen are used to freeze off the syringoma.
Dermabrasion
In dermabrasion, a diamond-encrusted wheel or fine metal wire is used to remove and even out the top layers of the skin. 
Chemical peels
Local application of certain chemicals like trichloroacetic acid,to the syringoma,  cause drying up of syringoma and finally fall off. 
Surgical excision
Syringomas are surgically excised by cutting, scraping. 
Preventive measures
Preventive measures should be used to reduce sweat gland activity.  
Some factors that may reduce the risk of syringomas are:
Protection of the skin should be done from environmental and chemical stressors like from harmful UV rays of the sun. Apply sunscreen.

Avoid all kind of skin irritants and allergens.

Manage your all medical conditions.

Take a proper healthy, balanced diet that is high in skin nutrients such as vitamin A and E.
AYURVEDIC TREATMENT OF SYRINGOMAS
In Modern science, use of medicinal as well as surgical treatment may not give permanent treatment But in Ayurveda you can get the permanent cure from these kind of conditions . Instead of all these, you should start with Ayurveda natural herbs that will deal with the root cause of disease. Chandigarh Ayurved Centre provides Combination of medications for the natural and safe treatment of syringoma without surgeries.
Medicines used are 
Detox premium powder

Kanchnar guggulu

Trikatu syrup

Skin care tablet

Twak tail 
Description of medicines
Detox premium powder is very beneficial in reduces the size of cyst and removes out from the body. The powder consists of jahar mohra, akik pishti, sutshekhar ras, yavakshar, sudhyog tablet, giloy satav, etc. 
These herbal tablets are prepared from ingredients like Kachnaar bark, Shunthi, Pippali, Haritaki, Bibhitaki, etc that are good for any kind of growth. As the use of these tablets reduces the size of tumors and finally remove it out from the body.
Trikatu syrup is pure ayurvedic formulation comprises of mainly three herbs such as Pippali (Piper longum), Shunthi (Zingiber officinale), & Marich (Piper nigrum). The main function of trikatu syrup is it removes excess of Kapha doshas hence detoxifies the body. It has anti-inflammatory, analgesic and antioxidant properties. It boosts metabolism and works in the removal of impurities of the body. 
Skin care tablet is a pure ayurvedic formulation. It helps to maintain the texture of your skin depending on the type of skin you have. It contains various herbs like Haridra khand, Panchnimb churna, Khadir chahal etc. that work very effectively on all skin types. Skin care is a blood purifying tablet. It cools and detoxifies the blood, increase blood circulation of the skin. 
Twak tailam is very effective for the skin as it deeply nourishes the tissues and improves the skin luster. The tailam is composed of yashtimadhu (Glycyrrhiza glabra), manjistha (Rubia cordifolia), etc. The tailam supports skin health, helps in reducing uneven pigments, improves complexion, and helps in deep detoxification and blood purification without any side effects.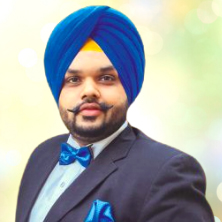 Dr. Vaidya Karanvir Singh is the younger Vaidya in Chandigarh Ayurved & Panchakarma Centre. He is the fourth generation in his family who is practicing as a general consultant in Ayurved & Panchakarma treatment at Chandigarh. In his practice, he had treated more than 1 Lakh Plus patients worldwide.
Article by Dr. Karanvir Singh (M.D in AYURVEDA, PANCHAKARMA FAGE) and reviewed by Vaidya Jagjit Singh (B.A.M.S)