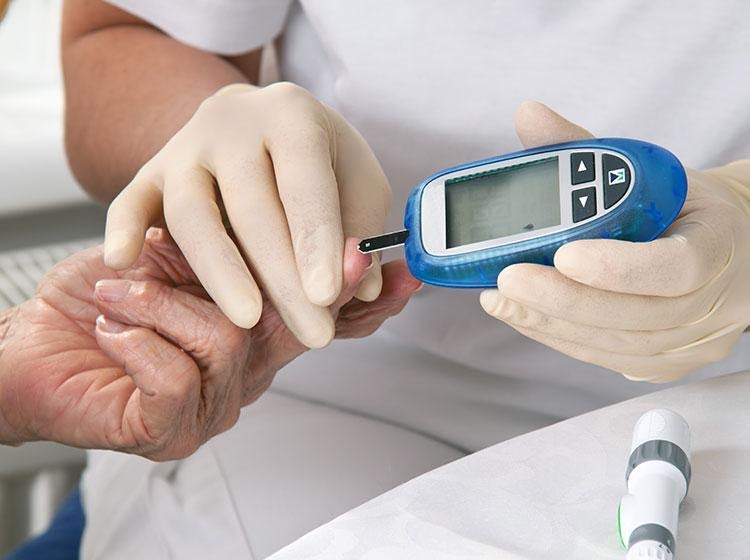 What is diabetes?
Diabetes is commonly known as just diabetes, is a group of metabolic disorders characterized by a high blood glucose level over a prolonged period of time. It happens when your body is not able to properly process and use glucose from the food you eat. This results in a buildup of extra sugar in your bloodstream.
CAUSES OF DIABETES-
Inadequate production of 

insulin

/pancreas not producing enough insulin 

Inadequate 

sensitivity

 of cells to the action of insulin.
CLASSIFICATION OF DIABETES-
There are three major type of diabetes include
1. Type 1 diabetes-
It is Also known as juvenile diabetes.

Type 1 diabetesoccurs when the body fails to produce 

insulin

. 
2. Type 2 diabetes-
Type 2 daibetes is the most common type of diabetes.

It affects the way the body uses insulin. 

In this,the body still makes insulin but the body cells do not respond to it as effectively as they once did. 
3. Gestational diabetes-
It occurs in women during pregnancy when the body can become less sensitive to insulin. 

gestional diabetes usually resolves after giving birth.

Gestational diabetes is less common types of diabetes.
PATHOPHYSIOLOGY-
Insulin plays a critical role in regulating glucose levels in the body. It is the principal hormone that regulates use of glucose from the blood into most cells of the body, especially liver, adipose tissue and muscle, except smooth muscle. 
Therefore, deficiency of insulin or the insensitivity of its receptors play a important role in all forms of diabetes mellitus.
SYMPTOMS OF DIABETES-
Increased 

urine

 output and decreased appetite

Feelings of unusual hunger, dry mouth

Increased hunger

Excessive thirst

Weight loss or gain

Frequent urination

Blurry vision

Extreme fatigue

Sores that  slow heal

Numbness or tingling in the hands or feet.
SYMPTOMS IN MEN-
 

Decreased sex drive

 E

rectile dysfunction (ED)

Weak muscle strength
SYMPTOMS IN WOMEN-
Urinary tract infections

Yeast infections

Dry and itchy skin.
DIAGNOSTIC CRITERIA-
Diabetes can be diagnosed by-
Blood glucose testing

Fasting plasma glucose test

Glucose tolerance test

Random plasma glucose test

Testing of the level of glycosylated 

hemoglobin
AYURVEDIC MANAGEMENT FOR DIABETES-
The natural herbs which are used to cure diabetes include-
Shilajit

Turmeric

Neem (Azadirachta indica)

Coccinea indica

Amalaki

Triphala

Bitter gourd

Rose apple

Leaves of bilva (Aegle marmelos)

Cinnamon

Gymnema

Fenugreek

Bay leaf 

Aloe vera 
Churana (powders
)-
Amalaki Churna

Haldi powder (Turmeric powder) 

Naag Bhasma.

.
AYURVEDIC FORMULATIONS-
The Ayurvedic preparations which believed to lower sugar levels include-
Vasanta Kusumakar Ras

Triphala choorna

Amalki swarasa

Phalatrikadi kwath

Chandraprabhavati

Vyoshadi guggulu

Lodharasava

Deaodarvarishta

Dhanvantara ghrita

Kshirabala tailam

Saptamrita lauha
DIABETES MELLITUS CARE KIT by CAC-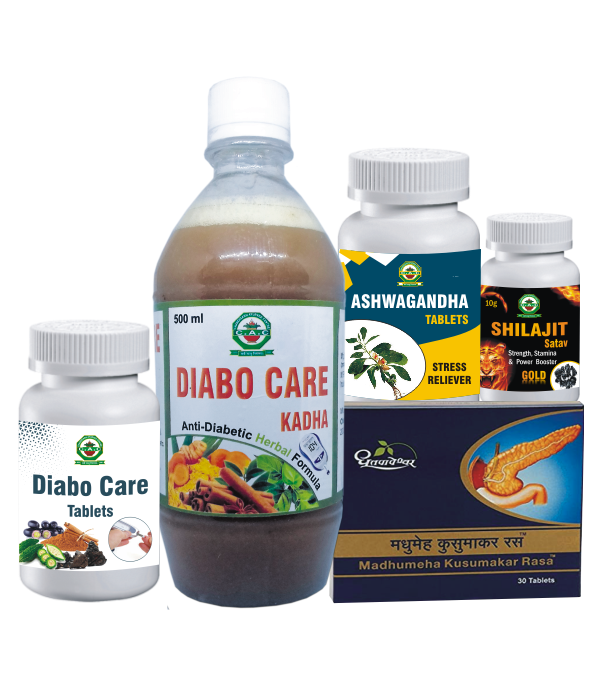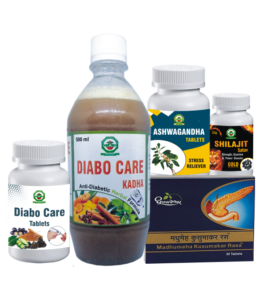 DIABETES MELLITUS CARE KIT
All Products Description in Detail-
Madhumeha Kusumakar Rasa- take 1 tablet twice a day with normal water.

Diabo care kadha- Take 20 ml twice a day with normal water.

Diabo care tablets- take 1 tablet twice a day

Ashwagandha tablets-

Take 1 tablet twice a day with normal water.

Shilajeet satav- as directed by physician
RISK FACTORS-
Risk factors for type 1 diabetes-
Family history of diabetes

Environmental factors

The presence of damaging immune system cells (autoantibodies).

Geography. 
Risk factors for type 2 diabetes-
Weight

Inactivity

Family history

Race or ethnicity

Age
 Gestational diabetes
Polycystic ovary syndrome

High blood pressure

Abnormal cholesterol and triglyceride levels
DIABETES COMPLICATIONS-
The higher your blood sugar damages organs and tissues throughout your body. Complications associated with diabetes include:
Diabetic ketoacidosis- DKA is a serious condition that can lead to diabetic coma or even death.

Neuropathy

-Nerve damage from diabetes is called diabetic neuropathy.

Nephropathy

-high glucose level and high blood pressure increases chance of getting kidney disease.

Eye complications such as cataract, glaucoma,

retinopathy

 and 

vision loss

.

Heart disease

such as Arrhythmias, 

heart attack

, cardiovascular disease and 

stroke

etc.

Foot

related complications such as numbness, infections and sores that slow heal.

Skin conditions

 like 

bacterial

 and 

fungal

 infections

Depression, dementia and hearing loss.
PREVENTION-
Diabetes can be prevented by adopting a healthy lifestyle
Lower sugar and refined carbohydrates from your diet

Work out / exercise regularly

Take enough water as your primary beverage

Optimize Vitamin D Levels

Reduce weight if you're obese 

Consume a very low-carb diet.

Decrease Intake of Processed Foods

Watch portion sizes

Avoid sedentary behaviors

Avoid  smoking and alcohol

Consider Taking These Natural Herbs such as curcumin and berberine
DIET RECOMMENDED IN DIABETES-
CEREALS-
Purana shali (old rice), Shastic Shali (rice which crops within 60 days), Yava (Barley) (Hordeum vulgare), Godhum (wheat), Kodrava (grain variety – Paspolum scrobiculatum)
PULSES
–
Adhaki (red gram-Cajamus cajan), Kulattha (horse gram) and Mudga (green gram) should be taken with bitter and astringent leafy vegetables.
VEGITABLES-
Navapatola (young Tricosanthus dioica), young vegetables variety of banana, Tanduleyaka (Amaranthus spinosus), Vastukam (Bathuva), Matsyakhshi (Alternanthera sessilis) all bitter vegetables (tiktasakam) like Methica (Fenugreek leaves), Karavellaka (Bitter gourd)
FRUITS-
Orange, watermelon, apple and guava, Jamb£ (Syzigium cumini) Kapitha (Feronia limonia), Amalki (Phylla Harina (deer), birds like Kapota (pigeon), Titira (Grey Francolin)nthus embilica) etc fruits
OILS
–
Nikumba (Danti-Baliospernum montanum), Ingudi (Balanitis egyptica), Atasi (Linum usitatisimum), Sarsapa (mustard)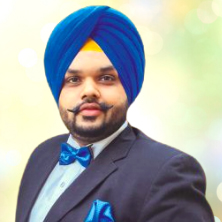 Dr. Vaidya Karanvir Singh is the younger Vaidya in Chandigarh Ayurved & Panchakarma Centre. He is the fourth generation in his family who is practicing as a general consultant in Ayurved & Panchakarma treatment at Chandigarh. In his practice, he had treated more than 1 Lakh Plus patients worldwide.
Article by Dr. Karanvir Singh (M.D in AYURVEDA, PANCHAKARMA FAGE) and reviewed by Vaidya Jagjit Singh (B.A.M.S)