OVERVIEW
Endometriosis is a disease in which the endometrial tissue which lines the uterus is present outside the uterus. The tissue usually grows in the ovaries, fallopian tubes, tissue lining the pelvis. It is a painful condition. During menstrual cycle, the endometrium in other areas grow thick, then break and bleed. But only the endometrium shed through the uterus exits the body, other sloughed off endometrium remains in the body.
Due to endometriosis, the cysts that are formed in the ovaries are called endometriomas. The surrounding tissue gets inflamed thus leading to formation of adhesions and pelvic infections. Blockage of fallopian tubes can also occur.
During menstruation, there occurs increased bleeding and pain. It also causes fertility problems.
CAUSES OF ENDOMETRIOSIS
The factors which are responsible for the occurrence of endometriosis are:
Increased estrogen levels in blood

Transformation of peritoneal cells into endometrial cells

After surgery such as hysterectomy or C-section

Transportation of endometrial cells to other parts of the body via blood vessels or lymphatic vessels

Weak immune system

Increased alcohol and caffeine consumption
 RISK FACTORS OF ENDOMETRIOSIS
There are some factors which makes a person at more risk o developing endometriosis:
Having menarche at an early age

Short menstrual cycles

Bleeding for more than seven days

Low body weight

Having family history of endometriosis

Female reproductive tract disorders

Any autoimmune disease

Ovarian cancer

Breast cancer
SYMPTOMS OF ENDOMETRIOSIS
The common signs and symptoms of endometriosis are:
Abdominal cramps during periods

Pain during sexual intercourse

Heavy bleeding

Lower back pain

Diarrhea or constipation

Feeling tired

Nausea

Vomiting

Bloating

Urinary problems

Infertility
COMPLICATIONS OF ENDOMETRIOSIS
The complications which are associated with endometriosis are:
Infertility

Cancer

Anxiety

Depression
DIAGNOSIS OF ENDOMETRIOSIS
The doctor will ask the patient about the symptoms. He will look into the location of pain and its type. He will do a pelvic examination of the patient. He may suggest some of the tests such as:
Ultrasound

Laproscopy 

MRI

CT scan

Biopsy 
CHANDIGARH AYRUVEDA CENTER'S MEDICATIONS FOR THE TREATMENT OF ENDOMETRIOSIS
Here are some of the medicines of Chandigarh ayurveda center which are used for the treatment o endometriosis:
1. Kachnaar Guggulu Tablets
Kanchnaar Guggulu is the best Ayurvedic herb which mainly helps in balancing the Apana Vata. The tablets are prepared from Kachnaar (Bauhinia variegata), Shunthi (Zingiber officinale), Maricha (Piper nigrum), Pippali (Piper longum), Haritaki (Terminalia chebula), Bibhitaki (Terminalia bellirica), Amalaki (Emblica officinalis), etc that shows anti-inflammatory, analgesic, antioxidant properties and enhances the female reproductive health. It is very beneficial in correcting the hormonal imbalance, strengthens the body, & improves circulation.
Recommended Dosage: Take 2 tablets twice daily with normal water.
2. Femine care tablet
It is a pure and natural remedy that contains various herbs extract that works on the female reproductive system and make it healthy. These tablets show antioxidant properties, anti inflammatory and immuno modulater properties. It contains Ghritkumari , Muramakki, Sonth. It works in various diseases like pcod, bulky uterus, endometriosis, general female health, irregular menses, and uterine fibroids. It affects on Tridosha- balances Vata and Kapha.
Recommended dosage: 1-2 tablets two times a day or as directed by physician.
3. Women Power Plus Tablet
CAC woman power tablet is a complete health supplement for women which is best for female health and vital energy. It helps to build up the immunity. This is a pure herbo mineral product of the best quality herbs. The herbs used are Ashoka, Shatavari, anatmool, etc. These are herbs used since ancient times to maintain female health metabolism.
Recommended dosage: Take 2 tablets twice a day or as directed by physician.
4. Women Champion Syrup
Woman Champion is purely herbal and ayurvedic formulation. It is a very effective tonic for women and help to maintain their health. It balances all the doshas of body and also maintain hormone levels . It contains herbs like Lodhra, Manjishta, Ashok chaal, Punarnava,Shatavar,Bala,Daruharidra,Nagarmotha that help women typically with mood changes, stress, headache and pain. CAC Women champion helps in leading a life of minimum discomfort during those difficult days every month.
Recommended Dosage: Take 2 tablespoon a day or as directed by physician.
5. Panchsakar Churna
Panchasakar Churna is a mixture of four herbs in powder form along with salt. It is a classical formula that is prepared from Shunti (Zingiber officinale), Haritaki (Terminalia chebula), Pippali (Piper longum), Trivrit (Operculina turpethum), and Sauvarchala lavana.This herbal churna relieves constipation that is a common problem in endometriosis patients. It helps in relieving the abdominal pain, flatulence, and loss of appetite.
Recommended dosage: Take 1 teaspoonful at bedtime with lukewarm water.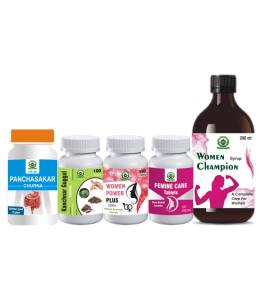 ENDOMETRIOSIS CARE KIT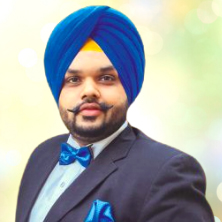 Dr. Vaidya Karanvir Singh is the younger Vaidya in Chandigarh Ayurved & Panchakarma Centre. He is the fourth generation in his family who is practicing as a general consultant in Ayurved & Panchakarma treatment at Chandigarh. In his practice, he had treated more than 1 Lakh Plus patients worldwide.
Article by Dr. Karanvir Singh (M.D in AYURVEDA, PANCHAKARMA FAGE) and reviewed by Vaidya Jagjit Singh (B.A.M.S)