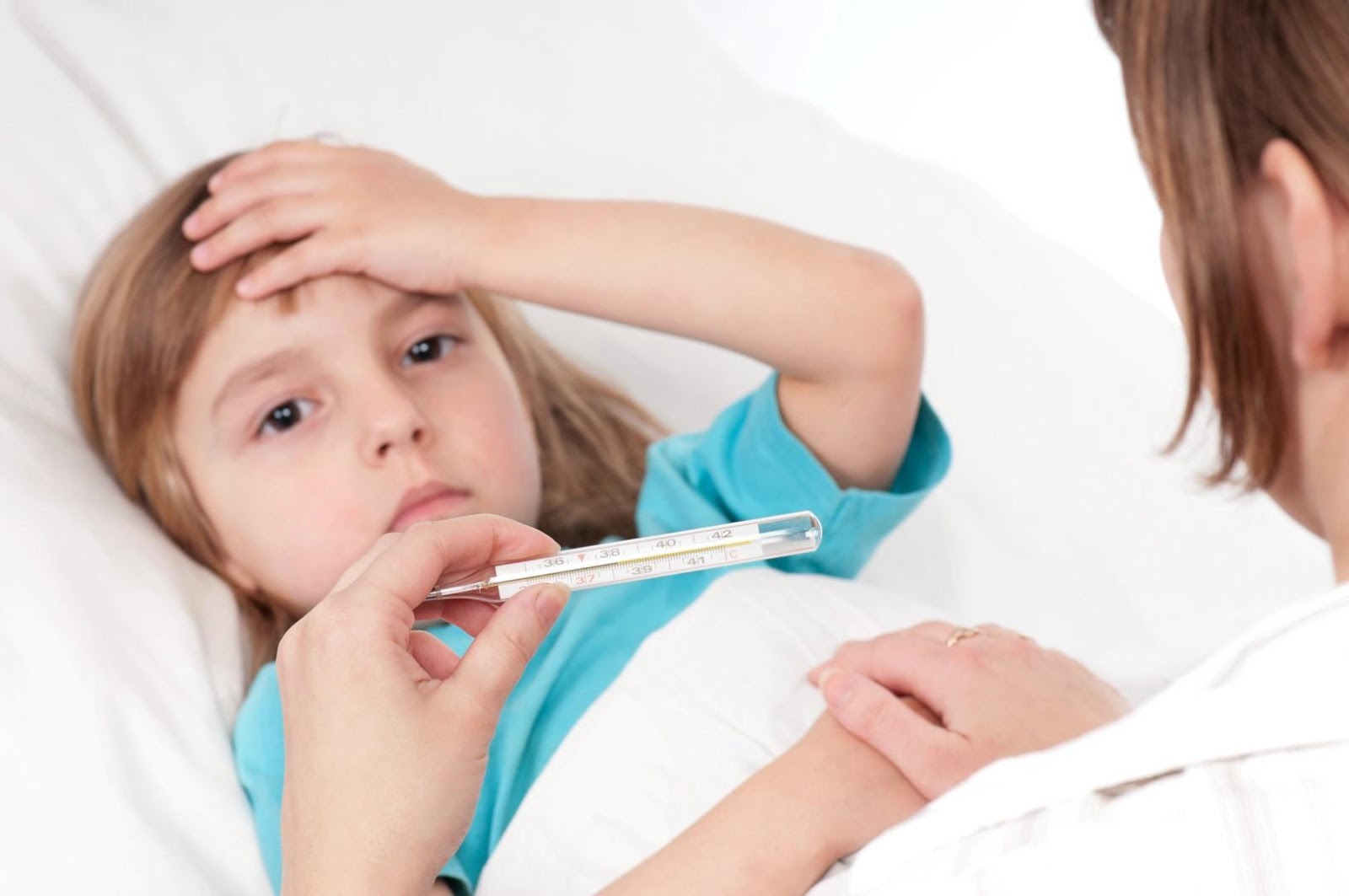 ROLE OF AYURVEDA IN TREATMENT OF TYPHOID
INTRODUCTION
WHAT IS TYPHOID FEVER??
It is also known as enteric fever. It rare in industrializes countries but in developing countries like India it still remains a serious threat, especially for the children.
CAUSITIVE ORGANISM- Salmonella typhi- It is a bacteria which infects the blood and the intestinal tract. 
Incubation period- 6 to 30days or 1-3 weeks after exposure the symptoms appear.
MODE OF TRANSMISSION- It spreads through the following ways-
Fecal-oral transmission route-
The bacteria are transmitted through contaminated food or water and may also transmit through direct contact an infected person. It can also spread through the faeco-oral route, i.e. it is passed in the feces and sometimes in the urine of the infected person.
Typhoid carriers
Despite of treatment with antibiotics, many sufferers continue to harbor the bacteria in their intestinal tracts or gallbladders. 
These carriers are capable of infecting others as they continue to shed the bacteria through the feces. 
SIGNS AND SYMPTOMS-
The person may notice the following signs and symptoms- 
Early infection –
In early stage the person may experience-
Mild fever that increases daily, may reach as high as 104.9 F (40.5 C)

Headache

Muscle pains

Weakness and fatigue

Excessive Sweating

Dry cough

Decreased or Loss of appetite

Loss of Weight

Stomach ache

Constipation or diarrhea
Later stage of infection-
If the person ignores the early symptoms or there is delay in treatment i.e. lack of care then the person may experience- 
Disturbed state of mind

Typhoid state – Where a patient lies motionless and exhausted

In addition, life-threatening complications often develop at this time.
In some people, 2 weeks after the fever has subsided the signs and symptoms may return.
AYURVEDIC VIEW-
In Ayurveda Typhoid fever may be correlated to "Sannipataj jwara".

Acharya Charaka described as 

Santata Jwara

 – one of the types of 

Vishama jwara is also

having

similarity

with the typhoid.

It is mentioned that jwara or fever with an imbalanced spread through rasavaha srotas or blood vessels all over the body causes stiffness in the body. It manifests its symptoms very quickly and either is cured or otherwise kills the patient on 7th, 10th or 12th day. It is very difficult to encounter this type of fever.

The condition is asadhya or incurable if the 

doshas

 involved in 

Sannipata

 type of 

Jwara

 are similar in property to the kaala or season, Dushya or 

Dhatus

and similar to the physical constitution 

(Prakruti)

of a person.

The fever would subside on the 7

th

, 10

th

and 12

th

day if the 

dhatus

 and waste products such as urine, stool and flatus are purified. However, If not purified then this fever is mortal for the patient on those days. Even if these 

dhatus 

are partially purified, the patient dies.

So one should follow the treatment and dietetics in order to purify your Dhatus and malas(Excretory system).
SINGLE HERBS-
Giloy (Tinospora cordifolia)

Tulsi(Occimum Sanctum)

HARIDRA OR TURMERIC

Patola

Nimba

Triphala

Mustka(Cyperus rotundus)
TREATMENT-
CAC Treatment is based on Ayurvedic principles and derived from pure natural herbs which are highly effective and work according to disease.
It works on the root cause of the disease and also nourishes and provides strength to the body.
CAC SPECIAL TYPHOID CARE KIT-
CAC Prepared "Thyroid Care kit" which is beneficial in treatment of Typhoid. These are as follow-
Detox Premium Powder
Amrit tulsi rasa
Liver care Tablet
Immuno booster tablet
Giloy herbal capsules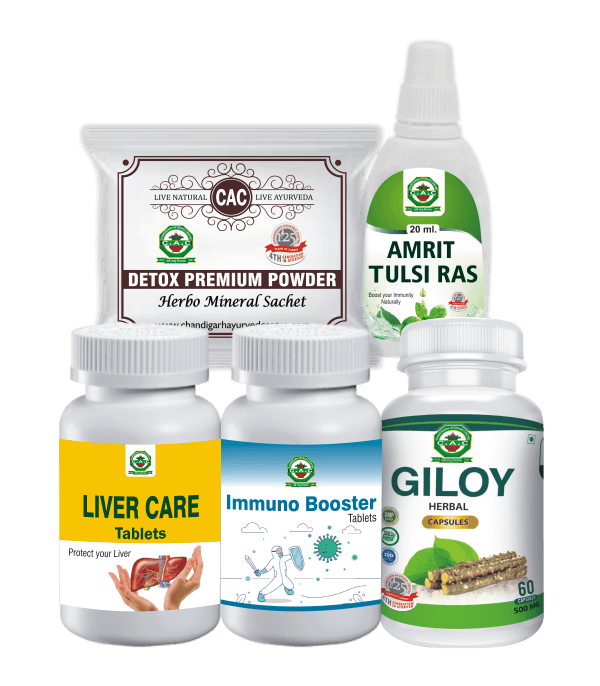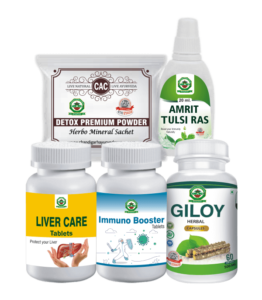 Typhoid Care Kit
For detail description of the product visit-
https://www.chandigarhayurvedcentre.com/product/typhoid-care-kit
AYURVEDIC TIPS FOR TYPHOID FEVER
By choosing Ayurveda it helps to keep a control on the rising body temperature and also strengthens the immune system of the body.

In Ayurveda Samhitas it is recommended use of decoction (concentrated liquor) of the leaves of the following – leaf of 

Patola

 (pointed gourd) and 

Katukarohini 

(Picrorhiza kurroa).

Other Alternatives 

Nimba 

– Neem (Azadirachta indica), 

Patola

 (pointed gourd), 

Triphala

, raisins,

 Musta

 (Cyperus rotundus) and 

Vatsaka 

(Holarrhena antidysenterica) can also be used.
DIET RECOMMENDATIONS (AAHAR)
One should avoid heavy food items

One should take Rice gruel (

Kanji

), and rice porridge (

khichari

) cooked with ginger and lemon.

Intake of Plenty of fluids.

Strictly avoid oily and Spicy food.

Avoid Packaged food items or Junk food items
VIHARA OR LIFESTYLE CHANGES
It is advised to take adequate rest.

Avoid head bath or cold shower bath.

Diwaswapana should be avoided or avoid day sleep or excessive sleep

Maintain Hygiene like frequent changing of blankets or bed sheet and also maintain oral hygiene.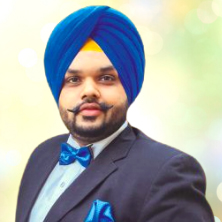 Dr. Vaidya Karanvir Singh is the younger Vaidya in Chandigarh Ayurved & Panchakarma Centre. He is the fourth generation in his family who is practicing as a general consultant in Ayurved & Panchakarma treatment at Chandigarh. In his practice, he had treated more than 1 Lakh Plus patients worldwide.
Article by Dr. Karanvir Singh (M.D in AYURVEDA, PANCHAKARMA FAGE) and reviewed by Vaidya Jagjit Singh (B.A.M.S)