What is the treatment of Fibromyalgia Treatment?
Fibromyalgia is very common in women, a disease that is combined with long-term experience and is chronic in nature. This gives rise to tremendous pain throughout the body, especially those parts that are eaten into muscles and bones. The person experiences general fatigue throughout the day. Fibromyalgia results in serious harm to patients in both physical and mental form. Even a person suffering from fibromyalgia is socially affected. The disease does not have such age dependence; it can also occur in any child. However, the disease is often misdiagnosed due to its variation in symptoms. Fibromyalgia may reflect the symptoms of arthritis, while a persistent pain in the ligaments, tendons, and muscles (ligaments, tendons and muscles) for about three months may cause the doctor to suspect you of the disease.
Some common symptoms that verify the existence of fibromyalgia are extreme fatigue, trouble sleeping, headaches, depression, concentration issues (extreme fatigue, sleeping trouble, headaches, depression, and concentration issues) that result in focusing on something. Inability to trigger points reduces your lower abdomen and pain. Symptoms often arise in the form of misinterpretation of nerves and brain which leads to chemical imbalance.
Fibromyalgia includes various causes such as infection with prior disease, passed from genetically passed to family members, extreme stress that leads to trauma and more. Theories state that it may be the result of nerve and receptive organs that are more sensitive to sensation.
In case of experiencing any such symptoms or long-term discomfort, you should consult a doctor.
Fibromyalgia is a long-term disease and there is no permanent cure for it. But proper medication and diagnosis at the right time reduces symptoms and allows the victim to lead a normal life. Apart from the common symptoms of fibromyalgia, it looks similar to osteoarthritis, tendinitis and bursitis (osteoarthritis, tendinitis and bursitis), some other signs include dry mouth, eyes and nose, frequent urination, light, heat, cold and sound ( dry mouth, eyes and nose, frequent urination, high sensitivity to light, heat, cold and sound), feeling or numbness in the skin like hands, arms, legs and face and even constipation and abdominal pain (dry mouth, eyes and nose, frequent urination, high sensitivity to light, heat, cold and sound).
Diet plan
Grain

Fruits (apples, grapes, cranberries and strawberries).

Vegetables (carrots, cabbage, cauliflower, tomatoes, dark green leafy).

Protein (poultry, fish, lean meats or dried beans).

Dairy products (low-fat milk, cheese, and yogurt).

Onion, garlic, ginger and turmeric.
Avoid them
High calorie foods

Fried diets or those containing high saturated fat.

Refined sugar and caffeine.

Nutracevite (aspartame) and monosodium glutamate (MSG).

Cigarettes and other tobacco products.
Yoga and exercise
Restrict the exercise to light movements such as stretching, light yoga or walking.

Aerobic exercises such as swimming, walking, cycling, etc. increase agility and reduce pain and fatigue in patients with fibromyalgia.

Strength exercises, such as lifting weights, increase muscle strength.

Do not do exercises or activities that force you to apply too much stress, these can worsen your symptoms.

Yoga general yoga postures, meditation, pranayama relieve the symptoms of fibromyalgia.
Apanasana 
Bhujangasan 
Music and meditation
Meditation procedures improve sleep patterns and reduce fatigue in patients with fibromyalgia.

In meditation, breathing or concentrating on a certain word, sound or object enters another state of perception. It brings peace and relaxation.

Some alternative medical practices, such as acupuncture (in which fine needles are inserted into nearby points of the body, to relieve pain), are helpful in preventing or reducing the symptoms of fibromyalgia.

Home remedies

Swimming, sitting in a hot water pool or hot water or exercising relieves muscle aches.

Make sure to sleep, sleep every day at fixed time and get up.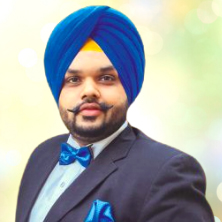 Dr. Vaidya Karanvir Singh is the younger Vaidya in Chandigarh Ayurved & Panchakarma Centre. He is the fourth generation in his family who is practicing as a general consultant in Ayurved & Panchakarma treatment at Chandigarh. In his practice, he had treated more than 1 Lakh Plus patients worldwide.
Article by Dr. Karanvir Singh (M.D in AYURVEDA, PANCHAKARMA FAGE) and reviewed by Vaidya Jagjit Singh (B.A.M.S)